One, ha ha ha, two, ha ha ha, three, yes three Dice Men are in the studio today for the last time (at least for a few weeks) as Garth jets off on holiday!
Tonight we dust off Cyclades in this weeks what we've been playing before Mark expands our Essen minds with a preview of some really exciting expansions that will be released very very soon!
Leon brings the show in for a perfect landing by chatting about Now Boarding, a real time co-op game all about transporting people around the good old US of A. It may be a little stressful, but hey, such is life!
Garth says see you in a few weeks, while Mark and Leon say good riddance to him and can enjoy their FREEDOM!!!
original air date 18/10/2018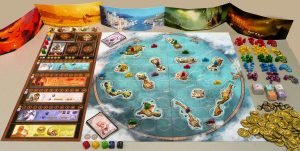 Podcast: Play in new window | Download
Subscribe: Google Podcasts | Spotify | RSS