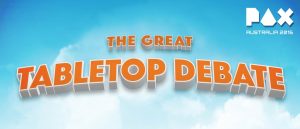 I (Mark) was lucky enough to take part last year in the inaugural Tabletop Debate at PAX AUS 2016, where I and 5 boardgaming luminaries debated the existence of a 'Tabletop Bubble', in a packed out Kookaburra Theatre in the PAX AUS venue.
I've finally managed to get the audio track that was recorded by David Scott (MC – Rule & Make) synced up with the powerpoint presentations used by some of the speakers, so now you can experience this debate yourself, in all its powerpointy glory.
Please forgive the audio quality, but it is well worth a listen. Also, please note that some speakers did not use quite as many slides as others.
Anyway, please enjoy the Great Tabletop Debate…
Speakers (in order):
Affirmative – Dann May (Game Salute), Mark Rickards (The Dice Men Cometh), Melissa Rogerson (Tabletop Manager, Pax)
Negative – David Harding (Grail Games), Phoebe Wild (Cardboard Vault), James Mackay (Games Laboratory)
Podcast: Play in new window | Download
Subscribe: Google Podcasts | Spotify | RSS